Shaggy Hearts Australian Labradoodle is planing an autumn litter and opens the WAITING LIST.
Shaggy
Wlochata Pasja Merry Shaggy
* 23.5.2015
appricot
curly
medium: 51 cm / 16 kg
ALFA-Europe No: AES-F17001CA
Koda
Rudzi's Apparition Amazing Koda
* 21.3.2013
chocolate / café latté
fleece
medium: 45 cm / 12 kg
ALFA-Europe No: AES-M14008C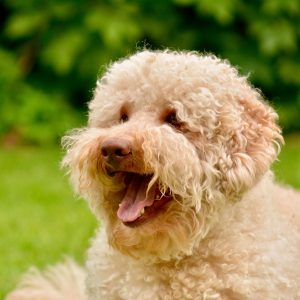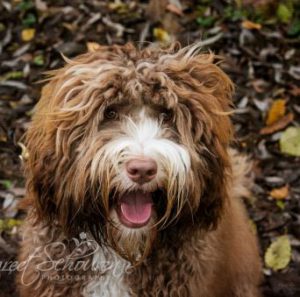 HD/hips: OFA normal excellent
ED/elbows: OFA excellent
PRA: normal
IC: carrier
PRA: clear
DNA-profile: VHL_ID H116372
HD/hips: OFA excellent
ED/elbows: OFA excellent
PRA: normal
IC: clear
PRA: clear
DNA-profile: VHL_ID 48685
Shaggy comes from Australian Labradoodle therapeutic lines. She has a great temperament, she is an active, very happy and perceptive bitch, who is ready to fulfill every wish of her pack. She loves all the visitors a wants to make them happy. She grew up in a family with children and pets, so she is always ready for action. But she also loves to snuggle and enjoy quiet moments. During her therapy dog activities,  that she just recently started, she displays strong therapeutic instincts.
Koda is a happy and good-natured dog. He lives in Netherlands in a family with a long tradition of breeding great Australian Labradoodles, Koda has a beautiful latté colored wavy fleece coat. He has an excellent body structure and temperament. He is full of life playing with others dogs, but when he comes home, he loves nothing more he comes home, he loves nothing more of the favorite dogs of the family.
Future Puppies Pedigree
Wlochata Pasja Merry Shaggy of Rutlands
m: Rutlands Caramel Passion
m: Tegan Park Shania
o: Rutlands Kelby
o: Rutlands Black Onyxe
m: Flaming Isabella
o: Rutlands Onyx
Rudzhi's Apparition Amazing Koda
m: Rudzhi'sApparition Kindly Cleo
m: Rudzhi's Apparition Lilo
o: Tamaruke Merlot
o: Mc Wally Orange Aussie Dogs
m: Rutlands WH Jolie Femme
o: Grizzly Bear Orange Aussie Dogs
Reservation
Our puppies will be raised up in home environment with a close contact with people, other
dogs and animals. We will provide maximum care and socialization, including early
neurological stimulation. We will choose the future families very carefully, we favor a family
environment and people, who are willing to supply the puppy with enough time, activities and
stimulation to let them fully unfold their great potential. The future owners will have the
possibility to visit the puppies at home and meet their mother.
If you decided to get a puppy from our Shaggy Hearts Australian Labradoodle family kennel,
please contact us on the e-mail address: info@australskylabradoodle.cz and do not hesitate to
ask any questions, which I will try to answer. A lot of information can be found on our web
pages www.australskylabradoodle.cz.
How to reserve a puppy
To be able to choose the right puppy to suit your family, we need to know some information. Be so kind and take time to answer these questions:
How many people live in the household, where the puppy will live?
Can you describe the dynamics of the household members?
How many children live in the household and what is their age?
Do you have a handicapped household member? If yes, what is his handicap?
Does any member of the family has an allergy? If yes, what allergy?
Are there any other pets/animals in the household? If yes, what are they?
What do you expect from your dog?
What is your daily schedule?
Do you have a garden?
What kind of activities do you plan to do with your dog?
Do you think, you have any useful information or demand, you would like us to know?
All the information provided are strictly for our use and will not be disclosed to a third party.
From the very first day we carefully observe the behavior and temperament of the puppies and according to these, we will choose the best family to provide the right fit. It is not the sex and color, but the right personality and temperament to determine the best rapport with the family. Since the puppies are desexed before leaving our house, there is really no big difference between the personality and temperament of a dog and a bitch.
If you want to be on the waiting list, you need to pay an advance of 100,- euro, and you will be included after the payment arrives on our account: IBAN:CZ7620100000002900936399. SWIFT/BIC: FIOBCZPPXXX. From that moment you are getting your puppy within one year or your advance will be fully refunded. The advance is of course deducted from the purchase sum.
What you are getting from us
a fully socialized puppy
EU international vaccination passport with veterinary records
the puppy will be microchipped,
vaccinated,
de-wormed,
de-sexed
complete health overview
pedigree issued by ALFA-Europe
DNA verification of parentage by a laboratory recommended by ALFA-Europe
purchase deal
detailed information in writing about the care and training of your puppy
information about feeding and nutrition
starting pack of puppy food
collar, harness and a lead
brush
a toy that the puppy is used to
a blanket with the smell of his mother and siblings
Price of the puppy is 1.950,- euro. After deducting of the advance payment it is 1.850,- euro
and will be payed in cash when you pick up your puppy. We can take the puppy to your home,
however it is not a part of the purchase deal and has to be negotiated separately.